Get a fresh start for your finances in 2023, with GLCU's Fresh Checking, Certified by BankOn
We understand and value that every member has their own unique story. Our Fresh Checking, certified by BankOn, gives members the opportunity to tell that story while building financial history and gaining access to a checking account. GLCU is committed to helping people build their finances, and Fresh Checking can help!
Build your financial future with GLCU Fresh Checking
Get a fresh start and build your relationship with GLCU
Certified by BankOn, the CFE's Fund's national platform that connects consumers to safe, affordable bank accounts
Rebuild or establish positive financial history
No minimum monthly balance requirement
Open with only a $25 initial deposit
Instant issue debit card
24/7 access via mobile and online banking
Be eligible for GLCU's interest-bearing Free Checking after a period of positive financial history!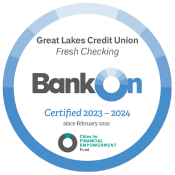 Note: There are some restrictions with Fresh Checking accounts such as no access to mobile deposits, Safety Net, or Cash in a Flash. For a complete list and details about the Fresh Checking account, please contact us!