Online Banking Upgrade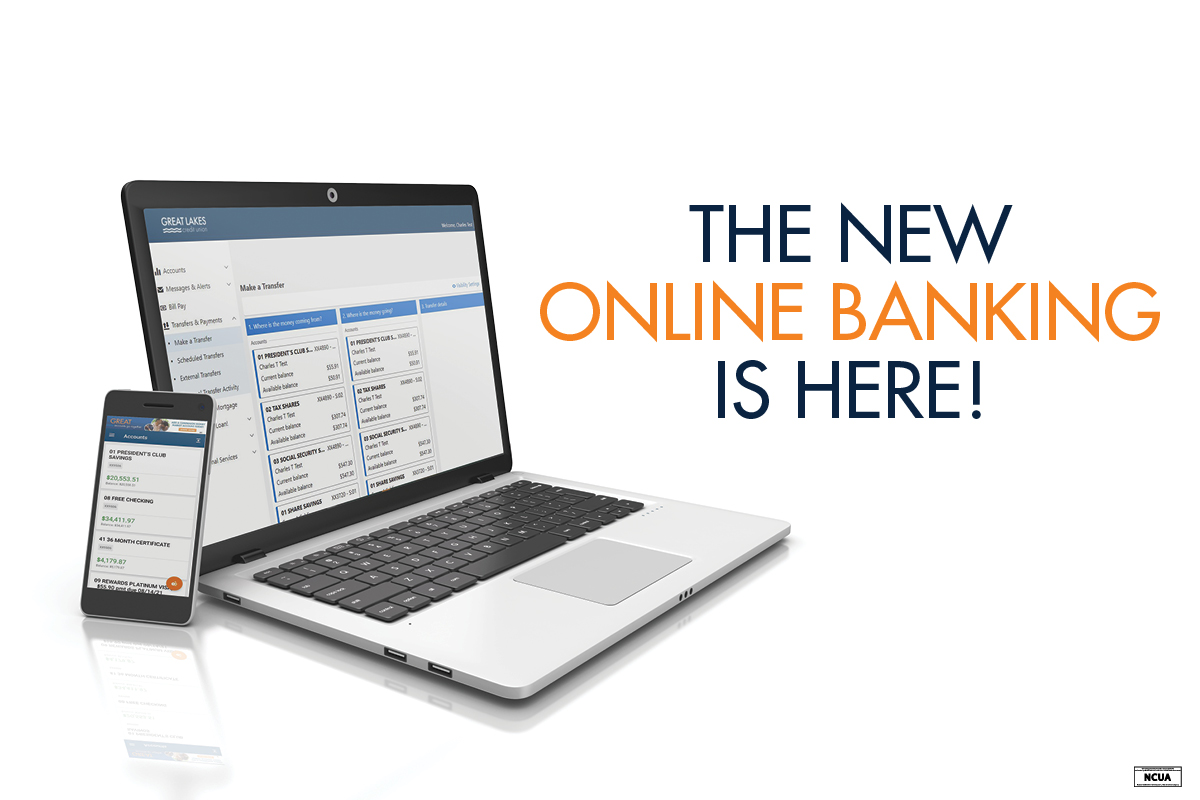 GLCU Online Banking Upgrade – What You Need to Know
Why has Great Lakes Credit Union upgraded online banking?
We've heard your feedback, and we know that members expect an easy-to-use, modern digital experience. So, beginning November 9, 2021, you will notice that our online banking looks a bit different to reflect that feedback!
This new platform will be more user-friendly with a more modern look. And, it will offer some important new features, like the ability to view all accounts a member is joint on.
What's new?
The new GLCU Online Banking offers:
New, member-friendly online banking experience that works on desktop, tablets and mobile devices
Top-notch security features
The ability to see joint accounts
Individual logins for each member to have access to their own online banking account
Biometric login for mobile banking for added security
What do I need to do to prepare for the upgrade?
Verify your contact info.
It is critical that your information is correct in order for us to communicate with you on how to re-enroll.
Confirm your address, phone number and email address by logging into your current GLCU Online Banking account and making necessary changes under "Settings."
You are also welcome to call us at (800) 982-7850, or visit us at one of our 13 branches, to verify your information.
Log into Online Banking
Select Settings
Select Personal
Select Modify Personal Settings
To update your physical address, phone number and other personal information:
Log into Online Banking
Select Services
Select Change Address
Select Continue
VERY IMPORTANT: REVIEW BELOW HOW YOUR TRANSFERS MIGHT BE IMPACTED
OLB Transfers

| If you currently have | Outcome during conversion |
| --- | --- |
| Bill Payments | Your Bill Payments will transfer over to our new platform! |
| Direct Deposit/Payrolls | Your Direct Deposits/Payrolls will post to your share account like normal. |
| Automatic Withdrawals (linked by account or debit card) Usually for utility bill payments, and you have authorized the other company to withdraw the funds as a single transaction or on a recurring basis. | Your automatic withdrawals will post like normal. |
| External transfers to or from one of your other financial institutions. | These transfers will not carry over to our new platform, so you will need to make other arrangements for them before November 5. You can re-schedule them in the new GLCU online banking after November 9. |
Record ALL external account numbers that receive transfers
We encourage you to make note of all external account numbers, outside of your GLCU accounts, that receive transfers. This will make it easier to set up those external transfers in the new GLCU Online Banking on our after November 9.
Make note of current account alerts
Alerts (both email and text) will need to be set up again on the new platform, so make a list of what alerts you have set up today.
Mark your calendar for the release date
Our conversion will take place on Tuesday, November 9, 2021. We expect that digital banking services will be fully up and running by early afternoon on Tuesday, November 9.
Check your inbox and website for frequent updates
We promise to keep you up to date on all of the important information regarding the conversion. We'll send emails (and snail mail, where appropriate), and have updated information available on our website.
Update your GLCU Mobile Banking app
A mobile app update will be available for download within the Apple and Google Play stores shortly after the conversion. Update your app when prompted, or download the GLCU Mobile Banking app if you haven't already!
New username and password: Upon your first login, you will need to verify your identity and confirm your contact information. Then, you will be prompted to create a new username and password that will be used for both online and mobile banking.
Transfers: You will need to re-set up any external transfers you had set up on the previous online banking platform, as they will not have transferred over.
App update: When the new platform launches on November 9, you will need to update your existing GLCU Mobile Banking app.
Security questions: Security questions and pictures will need to be set up again.
Account Alerts: Alerts (both email and text) will need to be set up again on the new platform. It will be necessary to select and add new alerts from the list provided.
Have additional questions? We can help!
Click here to read the Online Banking Upgrade FAQs