Money SmartsMarch 26, 2021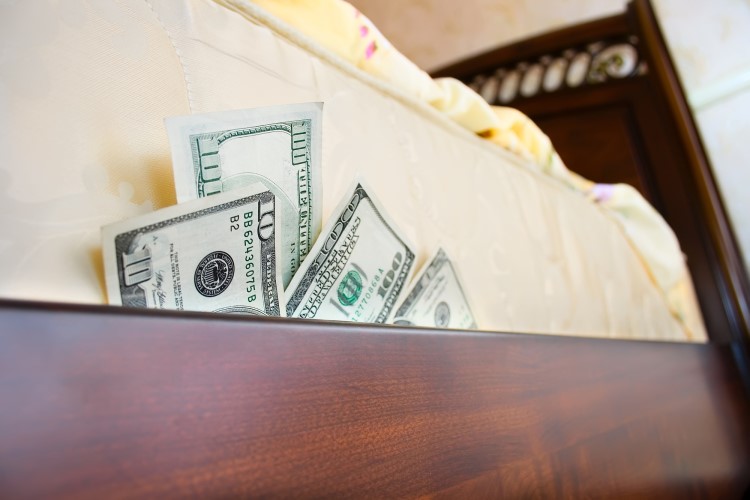 It's time to retire hiding money under your mattress, and start earning on money you already have! The average American has a median balance of $5,300, according to the Federal Reserve Board's 2019 Survey of Consumer Finances (SCF), released in September 2020¹. This data helps paint a picture of the average American household's balances including savings, checking, money market, and prepaid debit card accounts. According to the Federal Deposit Insurance Corporation (FDIC), the average interest rate on savings accounts currently stands at a mere 0.04% annual percentage yield (APY)². Most Americans are leaving quite a bit of money on the table and not earning as much as they could with the savings they already have.
At GLCU, being a member-owned not-for-profit financial institution gives an opportunity to give back in bigger ways, taking advantage of its member-focus to provide better rates on deposits, lower fees, and more affordable rates on loans. This creates an opportunity to increase earnings in a number of ways!
GLCU understands that every member has different depositing needs, that's why we came up with a list of 3 great ways we give back to members who utilize our deposit products.
Take advantage of an amazing checking account rate
Most checking accounts only pay 0.06% APY* for the average interest bearing account³, whereas GLCU's free checking account pays 2.50% APY*. That's an additional 2.44% APY earned! Not only does GLCU want members to EARN money, but we want you to SAVE money as well. With a GLCU Free Checking account, members will have ZERO monthly fees, no minimum balance, and free access to mobile and online banking. Through the CO-OP Network ATMs nationwide, members have access to free withdrawals at nearly 30,000 ATMs. Monthly ATM reimbursement is available up to $10* for those moments when using a non-GLCU/CO-OP ATM is most convenient. To get started on a GLCU Free Checking account, click here.
Open a Companion Money Market account
One way to take your earnings to the next level is by earning even more with a Companion Money Market account. With a Companion Money Market, members are able to continue earning 2.50% on their Free Checking account, while also earning 0.70% APY** on their Companion Money Market. These dividends are earned daily! For more information on how to open a Companion Money Market, click here.
Lock in an amazing rate with a GLCU Share Certificate
If you are looking for a simple way to let your cash work overtime to earn you more, open a share certificate! You can choose to have your dividends automatically reinvest into your certificate account so your earnings compound monthly, or transfer it to another GLCU account. Share Certificates earn a fixed rate of dividends and are a great way to lock in your rate for a set period of time, guaranteeing your earnings. GLCU starts their certificates at 0.15% annual percentage yield (APY). That percentage increases by term year up to 5 years at 0.25% APY! You can learn more about a GLCU Share Certificate online by clicking here.
*APY = Annual Percentage Yield. Qualifying required to earn ATM refunds (up to $10 monthly) and high-rate dividends. For full details visit https://www.glcu.org/bank/checking/free-checking/ All dividend rates and APY may change at any time, as determined by GLCU Board of Directors. The APYs shown above assume that all principal and dividends remain on deposit for the entire term. Fees could reduce earnings on the above accounts. Penalties apply for early withdrawal from Share Certificates and Holiday Savings Accounts. Additional account information is provided in separate Account Disclosures.
**Members must open a Companion Money Market (CMM) account. Minimum balance to open account is $10,000. To earn dividends on the CMM, the account must maintain a minimum average daily balance of $10,000 AND meet the conditions to earn the highest rate of our FREE Checking account. APY = annual percentage yield.
¹Average savings as referenced by Value Penguin, updated as of March 15, 2021: https://www.valuepenguin.com/banking/average-savings-account-balance
²Average savings interest rate as referenced by Smart Asset.com, updated as of March 03, 2021: https://smartasset.com/checking-account/average-savings-account-interest#:~:text=According%20to%20the%20FDIC%2C%20the,deposits%20(balances%20over%20%24100%2C000).
³Average bank interest rate for checking accounts referenced by Value Penguin, updated as of Dec 09 2020: https://www.valuepenguin.com/banking/average-bank-interest-rates
---