NewsAugust 29, 2022
As part of its strong social responsibility, Great Lakes Credit Union (GLCU) held its annual school supply drive this summer to help support students in its communities prepare for a successful year ahead. The drive collected much-needed classroom items for 14 local schools, a number of which have a predominantly low-income student base. From June 1, 2022, to July 23, 2022, GLCU employees and members donated over 14,000 school supply items to aid these students in their academic journeys, including 500 notebooks, 612 folders, and 2,936 pencils.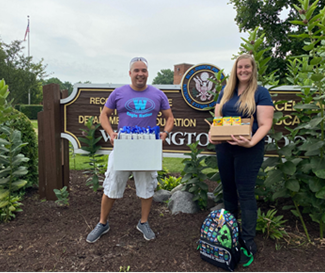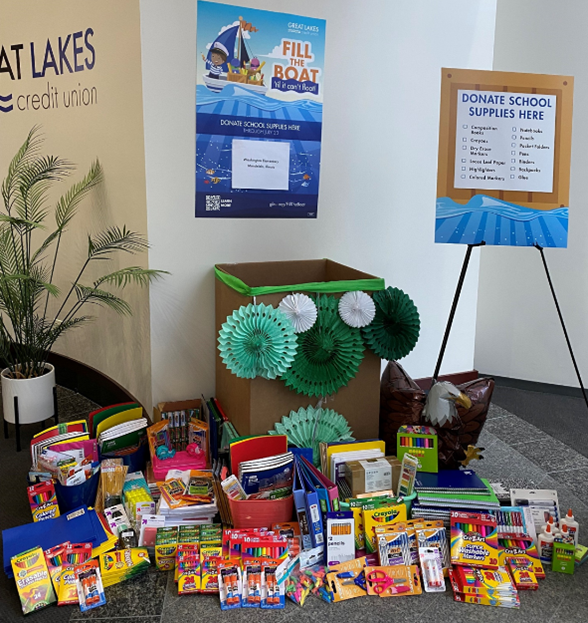 Donated items ranged from backpacks to binders to pencils and erasers. GLCU members and employees could contribute to the school supply drive either by donating items in person at any one of GLCU's 13 branch locations, at its headquarters, or electronically. For digital donations, GLCU branch visitors could simply scan the displayed flyers' QR code to find an Amazon wish list of needed school materials. Any items purchased in this way were shipped directly to the respective branch, allowing the GLCU team to track collected items before dropping them off at neighboring schools.
Area schools that received the donations include Hillcrest Elementary, Pioneer Elementary School, John T. McCutcheon Elementary School, Washington Elementary School, Mae Jemison School, Hussmann Elementary School, Viking Middle School, Adler School, Naper Elementary, North Chicago CUSD 187, Round Lake Beach Elementary, McCall Elementary School, Dean Street Elementary School, and Zion Elementary School.
At Washington Elementary, the donated supplies were used to create 188 school supply resource bags for low-income students and Ukraine refugees in Mundelein.
Promoting and supporting education is a top priority for GLCU, with the not-for-profit organization regularly providing its members with scholarship opportunities, book banks, and other academically focused opportunities.
"At GLCU, we believe that education paves the way for empowerment when it comes to a person's and community's future. A single pack of pencils and paper could mark the start of a bright and promising career, and it's crucial to make sure the leaders of tomorrow are prepared for that future today in our schools. Doing so is key to promoting prosperity for the next generation," said Steve Bugg, GLCU CEO & President.
GLCU is pleased to report how enthusiastically its team and members supported this year's school supply drive. The initiative saw an 82% increase in donations from the organization's drive in 2021. The GLCU team is already looking forward to boosting this number in 2023 to provide even greater aid to its communities' future leaders.
About Great Lakes Credit Union
Founded in 1938 and headquartered in Northern Illinois, GLCU is committed to financial empowerment for you. As a not-for-profit financial cooperative with over $1 billion in assets, GLCU is proud to serve more than 80,000 members in the Chicagoland and surrounding areas. Learn more about GLCU's accounts, educational initiatives and community development programs at glcu.org
---