Money SmartsNovember 3, 2021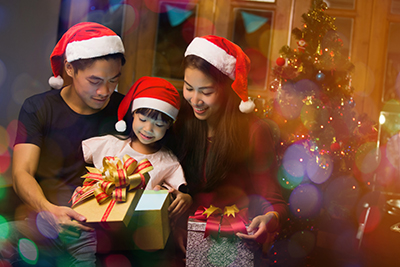 Budgeting is a very important financial tool in general to help manage your money but it is especially crucial during the holiday shopping season. Sticking to a holiday gift-giving budget helps make sure that you surprise and delight those on your list without putting yourself financially at risk in the New Year.
Here are a few tips to help stay within your budget while holiday shopping this year:
Make a realistic list
It's easier to stick to your budget when you have a solid spending plan. Rather than shopping without a plan, buy with a list in hand. Prior to doing your holiday shopping make a list of everyone you plan to purchase for and stick to it. Decide on how many gifts you will be getting them and set a monetary limit for each person.
Combine budgets
You can get more for your money if you limit your list. For example, many families draw names so that they don't have to spread their budget so thin and can purchase fewer, nicer gifts. This strategy can be utilized at work or with other similar groups as well. Going together with someone to split the cost of a gift – for parents, co-workers, etc. – can also help spread your budget further.
Budget limitations
Sometimes, circumstances in a particular year dictate that giving gifts are just too burdensome. If you find yourself in this situation, communicating your financial situation to others might be appreciated and could also save them the trouble of spending money on a gift for you, expecting one in return. This is especially helpful in the case of spouses, siblings or close family members.
When it comes to holiday shopping, you have options that can help put you in a better position to help make your New Year brighter.
---