December 29, 2017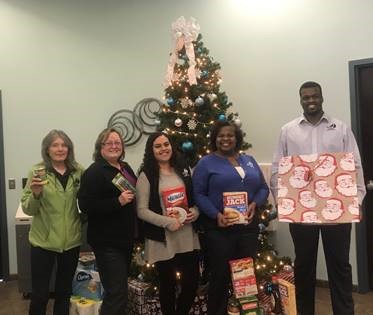 Just in time for Christmas, Great Lakes Credit Union (GLCU) and its members came together as Secret Santa for local Veterans. Donations were collected at each of GLCU's branches, where members and GLCU employees contributed more than 2,000 items, including food, toiletries, warm clothing, and cleaning supplies. All donations were presented to the Midwest Veterans Closet in North Chicago and the Midwest Shelter for Homeless Veterans in Wheaton on December 18 and December 19, 2017.
"It was incredible to see such a large response. It really shows how much our members care about Veterans and our community. I am so grateful I was part of this awesome initiative!" – Teresa Qualls, GLCU's Antioch Branch Manager.
The Midwest Veterans Closet is a not-for-profit rapid response charity that is impacting veterans' lives by providing clothing, household items, shoes and boots, linens, and food. To learn more, please visit http://www.midwestveteranscloset.org/home.html.
The Midwest Shelter for Homeless Veterans' mission is to provide veterans and their families with housing and supportive services that lead to self-sufficiency. To learn more, please visit http://helpaveteran.org/.
---