November 28, 2017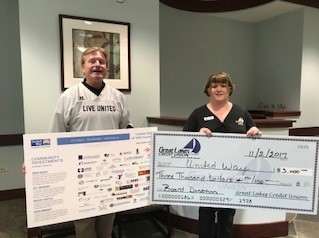 In support of Great Lakes Credit Union's (GLCU) efforts to give back to its communities, GLCU Board Member, Pat Price, and Bolingbrook Branch Manager, Melissa Stroud donated $3,000 to the United Way of Will County.
GLCU is proud to support the communities in which its members live. For the second year in a row, GLCU's Board of Directors adopted an extraordinary plan to give back to its neighbors; Branch Managers of each GLCU location work closely with Board Members to support local charities.
United Way of Will County's mission is to unite communities and resources to empower people and create positive, sustainable change. To learn more, please visit http://www.uwwill.org/.
Throughout 2017, GLCU will continue to donate to organizations that are making a positive impact.
---