November 13, 2017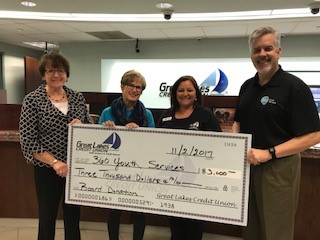 For the second year in a row, Great Lakes Credit Union's (GLCU) Board of Directors adopted an extraordinary plan to give back to its communities; Branch Managers of each GLCU location work closely with Board Members to find local charities to support on behalf of GLCU.
In support of GLCU's initiative to give back to its communities, on November 2, 2017, GLCU Board Member, Pat Price, and Naperville Branch Manager, Nikki Appleyard contributed $3,000 to 360 Youth Services.
360 Youth Services provides life-changing services through substance abuse prevention education, counseling and housing. https://www.360youthservices.org/
Throughout 2017, GLCU will continue to donate to organizations that are making a positive impact.
---