September 28, 2017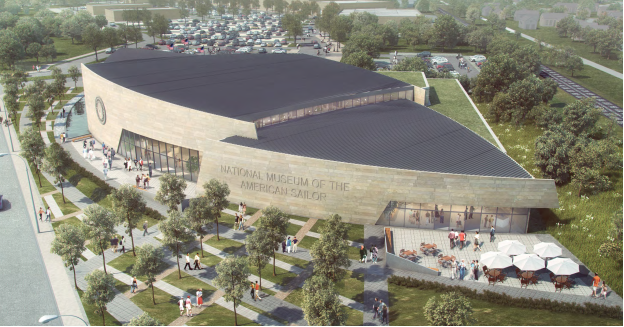 Great Lakes Credit Union (GLCU) is honored to support the National Museum of the American Sailor, the only museum dedicated to the Enlisted Sailor. The museum campus, to be located in North Chicago near the Great Lakes Naval Station, will be designed with the purpose to preserve, educate and celebrate the history of the United States Navy's enlisted sailor.
The campus will comprise approximately 3.5 acres of landscaped grounds, water features, reflecting pool, anchor honor memorial, and sculptured gardens. 40,000+ square feet of interior museum space will contain multiple exhibit galleries, a performance auditorium (presentations, lectures, speeches, graduations and ceremonies), conference and meeting rooms, and Science Technology Engineering Math (STEM) Laboratory providing cultural, educational, and community civic impact.
In addition, the surrounding Sheridan Crossing Cultural and Entertainment District will include approximately 350,000 square feet of 107-room Hilton Hotel, 10-screen, 1,300 seat movie theater, dining, entertainment, and retail amenities in support of the museum.
"This endeavor will create critical economic benefits to Lake County," stated Ken Tucker, President of the National Museum of the American Sailor Foundation (NMASF), "Once complete, we estimate more than 400,000 visitors each year, bringing more than $8M annually to North Chicago and surrounding communities in retail and careers. This endeavor is an enormous undertaking. Our sailors, their families, and our nation deserve the best we can offer to them."
The NMASF is the official 501(c)(3) corporation established to implement development of the museum and is in need of funding. The Foundation must raise $25M to build and provide displays. Help us support our American Sailor's unwavering and patriotic allegiance to the United States. Donations are accepted online at http://www.nmasf.org.
---