December 12, 2017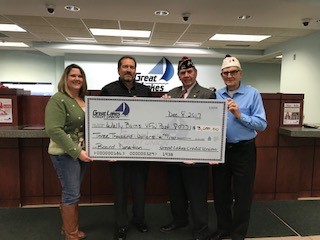 In support of Great Lakes Credit Union's (GLCU) initiative to give back to its communities, on December 8, GLCU Board Chair, Jim Fabrie, and Country Club Hills Branch Manager, Terri Spriggs contributed $3,000 to Wally Burns Veterans of Foreign Wars in Flossmoor, Il.
GLCU is proud to support the communities in which its members live. For the second year in a row, GLCU's Board of Directors adopted an extraordinary plan to give back to its neighbors; Branch Managers of each GLCU location work closely with Board Members to support local and charitable causes.
Spriggs commented, "I have such a respect for those who have served in our armed forces and I'm lucky enough to work for an organization who also shares that same respect".
Wally Burns Veterans of Foreign Wars' mission is to foster camaraderie among United States veterans of overseas conflicts. To serve our veterans, the military, our communities and to advocate on behalf of all veterans.
Throughout 2017, GLCU will continue to donate to organizations that are making a positive impact.
---