Coronavirus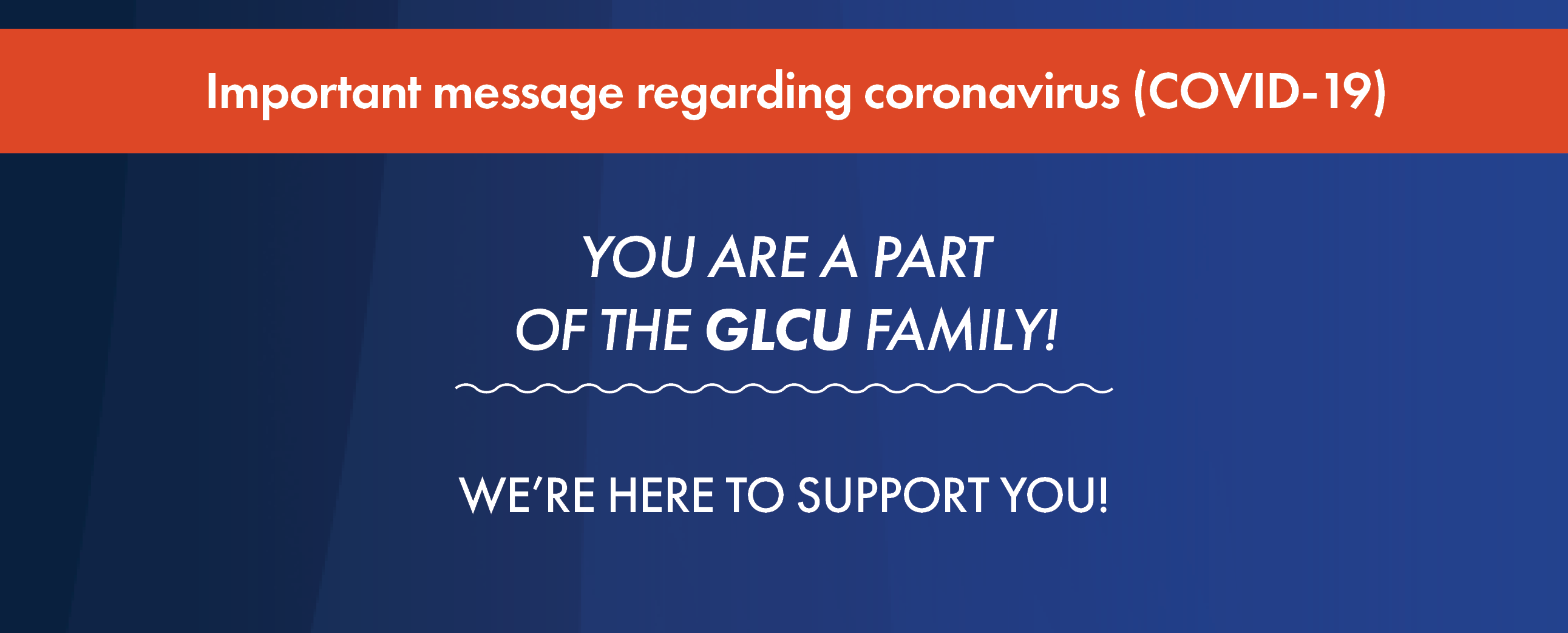 November 9, 2020:
Due to increased risk of COVID-19, GLCU is taking precautionary measures to focus on the safety and health of our member-owners and staff.
Starting 11/12/2020, all GLCU locations will operate with limited service capacity. While lobby traffic may be limited, we are still here to serve your needs.
View the latest hours and services available at your local branch.
We apologize for any inconvenience this may cause. Members are encouraged to take advantage of online and mobile services, as well as our massive network of 30,000+ free ATMs for convenient access to your account. Those needing one-on-one support can schedule in-lobby services in advance, or visit the nearest GLCU Drive-Up location.
We value the trust you have placed in us and we will continue to notify you if there are other changes that could affect how we serve you. We apologize for any inconvenience and impacts to your service. If you have special circumstances, or need access to your safe-deposit boxes, do not hesitate to call our Member Contact Center at (800) 982-7850.

Remember, GLCU offers online and mobile banking features, so you can bank from almost anywhere 24 hours a day, 7 days a week. Download our mobile app to deposit checks, pay bills, make payments on loans, transfer money, apply for loans, set and receive alerts. New to online banking? Online banking registration is easy and only takes a few minutes.

Use your GLCU Debit / Credit Card to securely shop anywhere (including online and in-app purchases) while reducing the spreading of germs and limiting your risk of exposure. For your safety, GLCU cautions against carrying excess cash.
Locate branches and surcharge-free ATMs near you, including hours of operation. To find the nearest surcharge-free ATM, branch, or service location, use our online locator tool.
Use the 24-hour night deposit box at any GLCU location. This outlet allows you to securely drop off loan payments, checks or cash deposits, etc. Payments and deposits received in our night drop will be processed within 1 business day.

GLCU is aware that members have been impacted by the COVID-19 pandemic and we are committed to help in any way possible. GLCU offers a number of free financial wellness services including but not limited to; budget counseling, debt management, credit counseling, bankruptcy / foreclosure prevention, and more. No question is too big or small for our HUD-Certified Housing Counselors and our team is standing by to provide assistance to help alleviate your financial burdens.*

Are you experiencing hardship and in need of assistance?

*GLCU operates a HUD approved housing counseling agency through an affiliation with BALANCE Financial Fitness. Counselors do not steer toward specific products and services. Counselors are available to answer your brief financial questions, or provide an extensive, no cost financial counseling session.


Our teams are monitoring information from the Centers for Disease Control and Prevention (CDC), along with federal, state and local agencies to help ensure the actions we're taking are in line with the latest CDC recommendations and guidance.
We are ensuring our employees have the necessary information to stay healthy and remain home if feeling ill.
As a precautionary step, we have installed hand sanitizer stations at our locations
We are continuing to conduct enhanced cleaning in all facilities as needed.
Until the situation improves, we have removed items from common areas such as newspapers, magazines, toys, snacks, and will not be offering coffee service.
We have postponed all of our financial literacy workshops and group counseling services.
Staff travel has been eliminated along with partner visits until further notice. We are asking employees to conduct larger group meetings remotely using digital services, in place of in-person meetings.

As this situation evolves, we will continue to monitor the spread of the COVID-19 and notify you if there is a change in our operations that could affect how we serve you, our members. On behalf of the entire Great Lakes Credit Union team, we wish you and your family good health and continued well-being.


Dear Great Lakes Credit Union Member,
We place the health and safety of our members and employees at the highest priority amid concerns regarding the spread of the coronavirus (COVID-19). We are actively monitoring the rapidly changing developments surrounding COVID-19 to safeguard the well-being of our membership and staff. During this time of uncertainty, and as always, our commitment is to serving your needs. GLCU is taking every necessary step to ensure that our services remain at the highest level possible and adapt to your changing needs.

If you are experiencing hardships and are in need of assistance, please do not hesitate to contact us or visit our member assistance page for more information www.glcu.org/member-assistance.


Thank you for your membership.
Steve Bugg, President and CEO